The Complete Digital Workbook is your go-to resource for practical, evidence-based handouts, worksheets, and therapist treatment guides. Print-and-go!
Quick Stats About The Workbook
Pages: Almost 600 original pages


Price: $95


Where to Purchase: On our shop

Who's it for? Designed for use in all adult speech therapy settings.


Topics Covered: Dysphagia, Memory, Problem Solving, Visual Neglect, Aphasia, Motor Speech, Voice & Resonance, AAC, and Fluency


What's Included: Patient Handouts & Worksheets, "For Therapist Eyes Only" Treatment Guides, Goal-Writing Guide, anatomy and exercises illustrations, Memory Book templates, AAC boards, Phonemic LIsts, Reading Material, Treatment Approaches, and much more!


Can I Print It? Can I View it on My Devices?

Yes and Yes! You will have instant access to the PDF files.

Print handouts and worksheets for your patients—or save trees by presenting materials on your iPad or laptop.

Sample Pages from The Workbook
Writing Goals
Dysphagia
Memory
Aphasia
Problem Solving
Voice and Resonance
Visual Neglect
Motor Speech
AAC
Fluency
The Workbook Table of Contents
WRITING GOALS
HOMEWORK LOG
DYSPHAGIA



Neuroplasticity
Safe Swallowing
Effortful Swallow
Puréed Diet
Esophageal Diet
Thickened Liquids
Deep Breathing
Head and Neck Stretches
Tracheostomy Care
Speaking Valve



MEMORY



Memory Strategies
Ways to Improve Memory
Memorize Lists
Brain Organization Tips
Remembering Instructions
Remembering Reading Material
Moderate Memory Deficits

How to Avoid Memory Loss
Remembering Your Medications
Monthly Calendar
Remembering People's Names
Remembering Appointments
Memos & Appointments
Severe Memory Deficits

Orientation
Spaced Retrieval
Memory Books
Daily Journal
Daily Schedule
PROBLEM SOLVING



Task Analysis
TEACH-M
Setting Goals
Practical Math
Sequencing
Everyday Math
Compensatory Treatment

Filling a Pill Box
Organize your Bills
Medical Alert Systems
Medical Team Phone Numbers
Meal Planning
VISUAL NEGLECT



Lighthouse Technique
Reading Strategies
Reading Maps
Feedback Training

Environmental Modifications
Cancellation Task
APHASIA



Cueing Hierarchy
Communication Tips
Language Expression & Writing
Language Comprehension & Reading



MOTOR SPEECH



Sound Production Treatment
Diaphragmatic Breathing
Breath Control
Sentence Stress
Heteronyms
Phonemic Lists
Compensatory Treatment

Clear Speech Strategies
Phone Calls
Conversation
Interview
Monologues
VOICE & RESONANCE



Hypernasality
Nasal Air Emission
Cul-de-Sac Resonance
Voice Treatment
Vocal Tension
Vocal Weakness
Vocal Hygiene
Circumlaryngeal Massage
AAC



Listener Tips
Alphabet Board
FLUENCY



Fluency Strategies
Breath Curve



REFERENCES


Paperback Version
Prefer a physical book? The Adult Speech Therapy Workbook is available as a paperback on Amazon, Barnes and Noble, Target, and other online book retailers.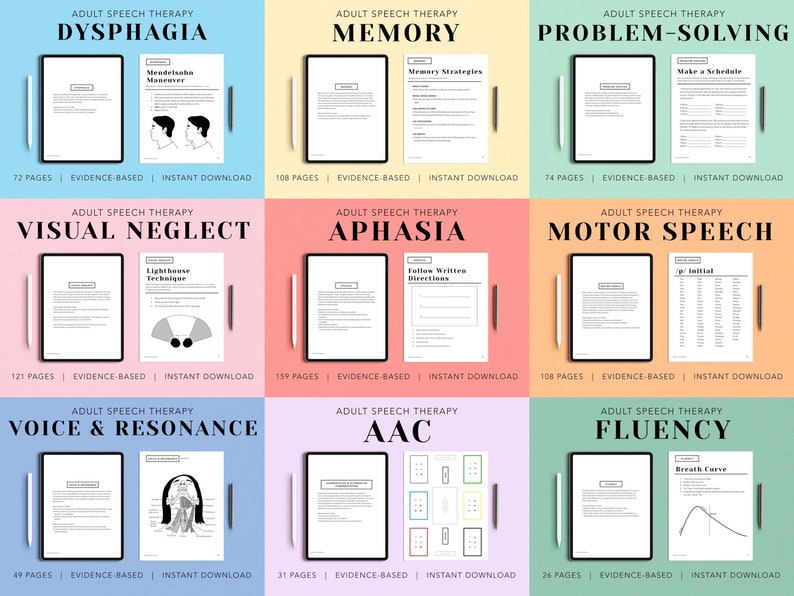 More Resources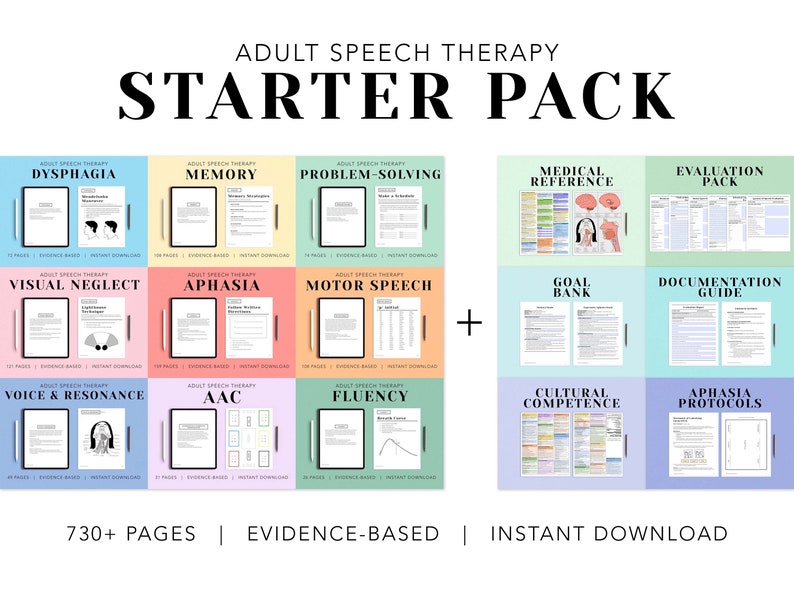 The Starter Pack. Handouts, worksheets, treatment guides, eval templates, goal banks, documentation guides, and much more.