Everything you need to assess, treat, and document!
The Starter Pack is the go-to resource for new adult speech therapists. It comes with hundreds of print-and-go handouts, worksheets, documentation templates, and treatment guides.
Gain confidence, time, and energy so you can focus on what matters most: Being there for your patients.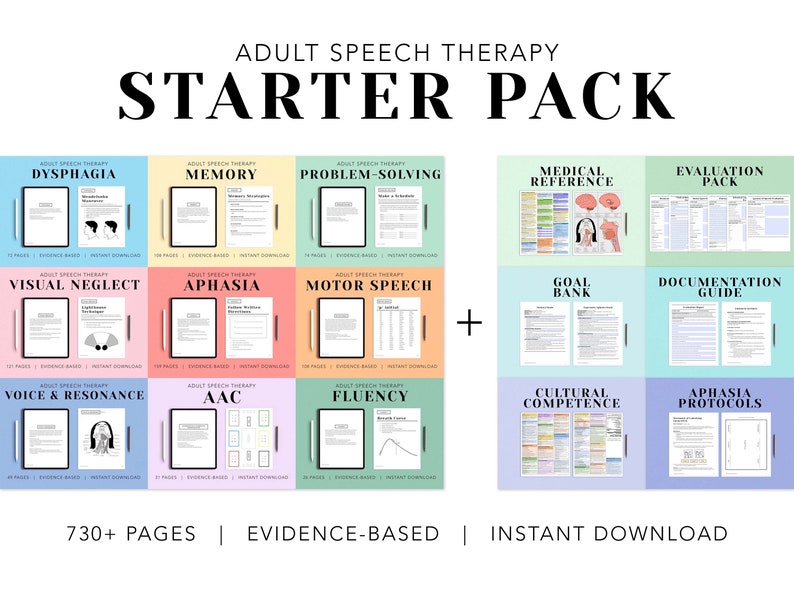 About the Starter Pack
Pages: 730+ original pages (PDF files)


Price: $159


Who's it for? Designed for use in all adult speech therapy settings


What's Included:



The Complete Digital Workbook (Bestseller!)
Medical Reference Chart (Bestseller!)
Evaluation Templates (Bestseller!)
Documentation Guide
Goal Bank (only available in The Starter Pack)
Aphasia Treatment Approaches (only available in The Starter Pack)
Cultural Competence Chart



Topics Covered:



Dysphagia
Memory
Problem Solving
Visual Neglect
Aphasia
Motor Speech
Voice & Resonance
AAC
Fluency
How to Write Goals
How to Write Defensible Reports
How to Write Defensible Treatment Notes
Person-Centered Care & Culturally Responsive Practices



Can I Print It? Can I View it on My Devices?

Yes and Yes! You will have instant access to the PDF files. Print them out—or save trees by presenting pages on your iPad or laptop.

Sample Pages
Click to view sample pages

1. The Complete Digital Workbook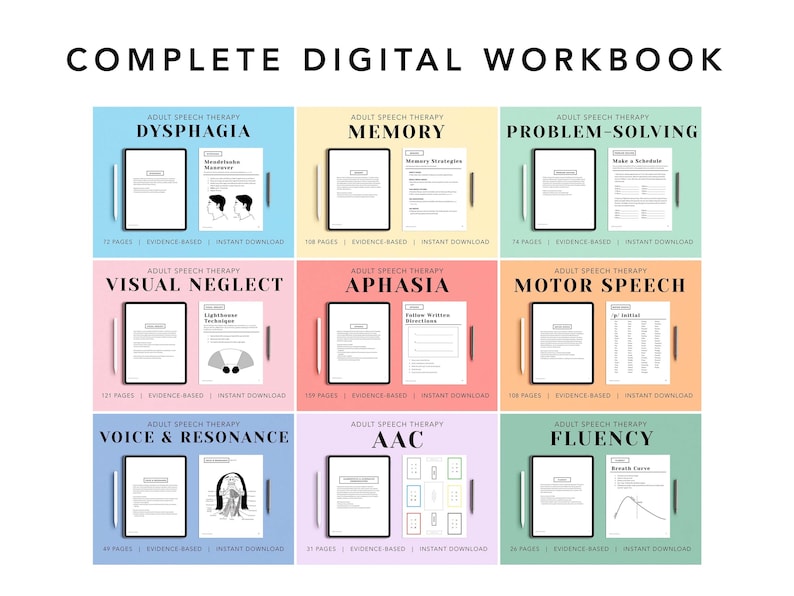 Dysphagia Sample Pages

Memory Sample Pages

Aphasia Sample Pages

Problem Solving Sample Pages

Voice and Resonance Sample Pages

Visual Neglect Sample Pages

Motor Speech Sample Pages

AAC Sample Pages

Fluency Sample Pages
2. Medical Reference Chart Sample Pages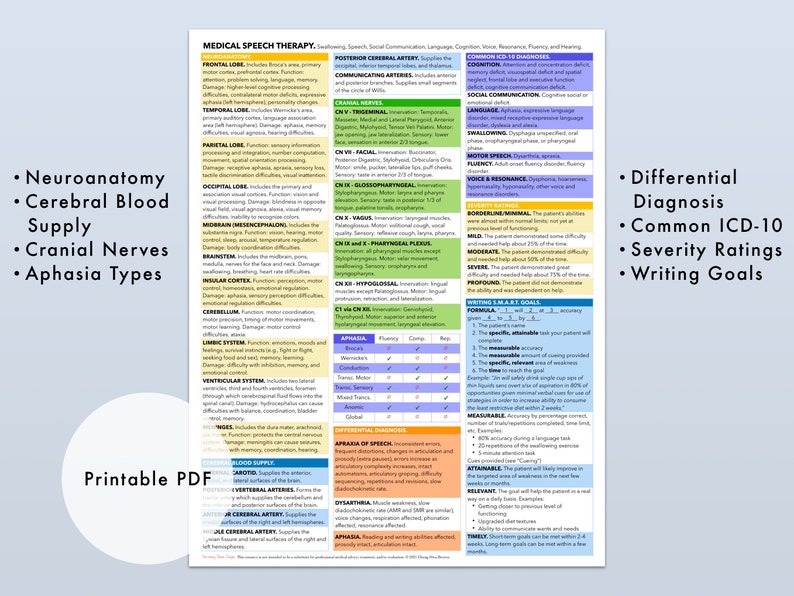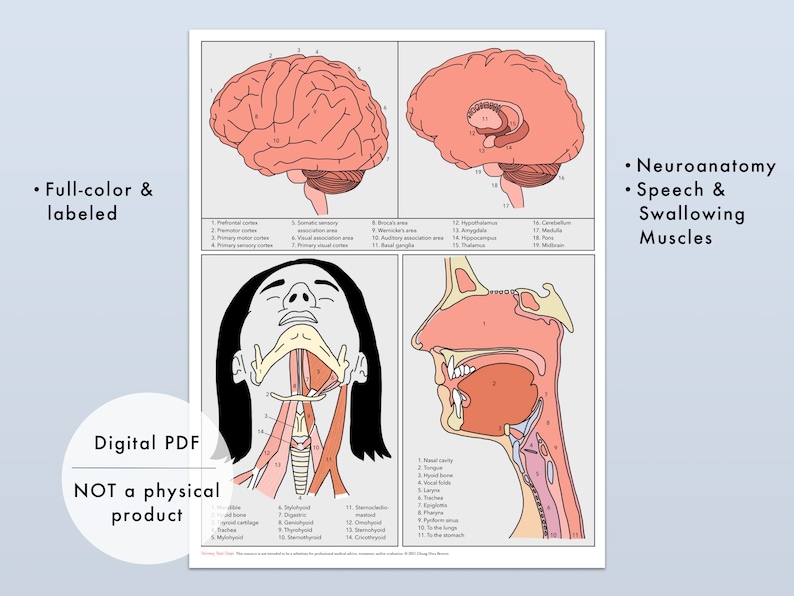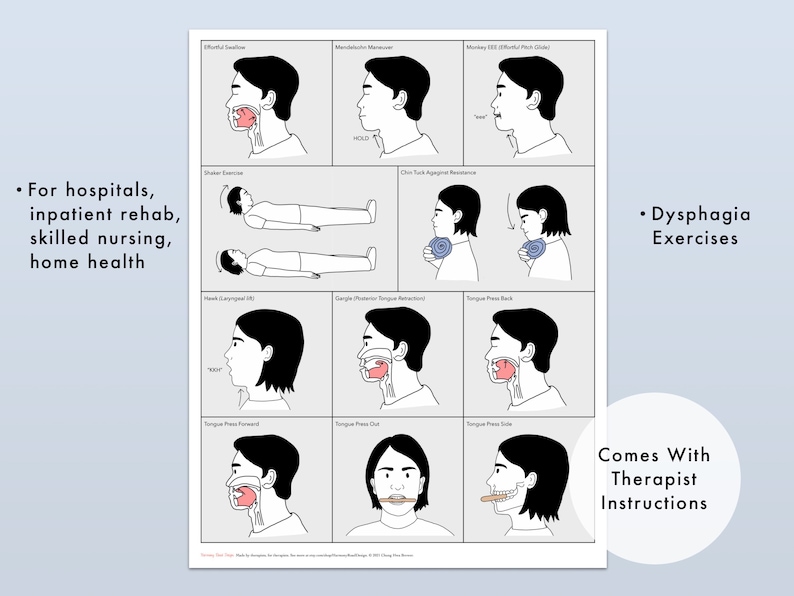 3. Evaluation Templates Sample Pages
4. Documentation Guide Sample Pages
5. Goal Bank Sample Pages
6. Cultural Competence Chart Sample Page

7. Aphasia Treatment Approaches Sample Pages
8. Evidence-Based
Customer Reviews
"★★★★★"
"These are going to save me a lot of time!"
"Loved ALL of these materials! So handy to grab! Thank you so much!"
"This is exactly what I was looking for! EBP HEP!"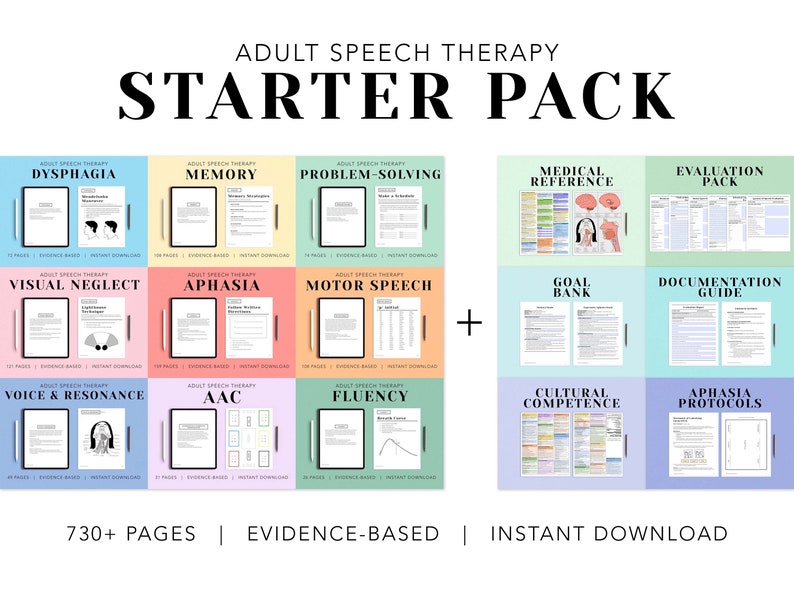 Questions? Contact us at contact@theadultspeechtherapyworkbook.com