Everything you need to assess, treat, and document!
The Adult Speech Therapy Starter Pack is the go-to resource for adult speech therapy. It comes with hundreds of print-and-go handouts, worksheets, evaluation and documentation templates, and much more.
Gain confidence, time, and energy so that you can focus on what matters most: Being there for your patients.
Customer Reviews
"★★★★★"
comprehensive, worth the money, great resources

Hands down my favorite SLP download yet. Everything is elegant and simple. The language is easy to understand and straight forward. I'm extremely happy with my purchase.
Excellent resource for SNF therapists or any SLP working with the adult population! Well worth the price! Tons of materials included, evidenced based, an all-in-one packet! Very satisfied, Thank You!
Video Review of the Starter Pack
Q&A: The Adult Speech Therapy Starter Pack
Is the Adult Speech Therapy Starter Pack evidence-based?

Yes!


How many pages is it?

730+ original pages (Digital PDF files. In total, it comes with 900+ pages. This includes duplicated content for ease of use)


How much does it cost?

$169


Where can I purchase it?

On our shop


Who's it for?

Designed for use in all adult speech therapy settings


What's included?



What does the Starter Pack cover?



How to Write Goals
How to Write Defensible Reports
How to Write Defensible Treatment Notes
Person-Centered Care & Culturally Responsive Practices

* For a detailed table of contents, click 'Description' on the Starter Pack listing



Can I print It? Can I view it on my devices?

Yes and Yes! Upon purchase, you will have access to the PDF files forever. Print them out—or save trees by presenting pages on your iPad or laptop.


Will I also get a physical copy?

Nope! This is a digital product only. This gives you the freedom to print fresh copies of handouts, evaluations forms, etc. whenever you need them.


Can I share the Adult Speech Therapy Starter Pack with other therapists at my job?

No. The Starter Pack is for use with your patients and their caregivers only. Please don't share with other providers.

Sample Pages: Adult Speech Therapy Starter Pack

1. The Adult Speech Therapy Workbook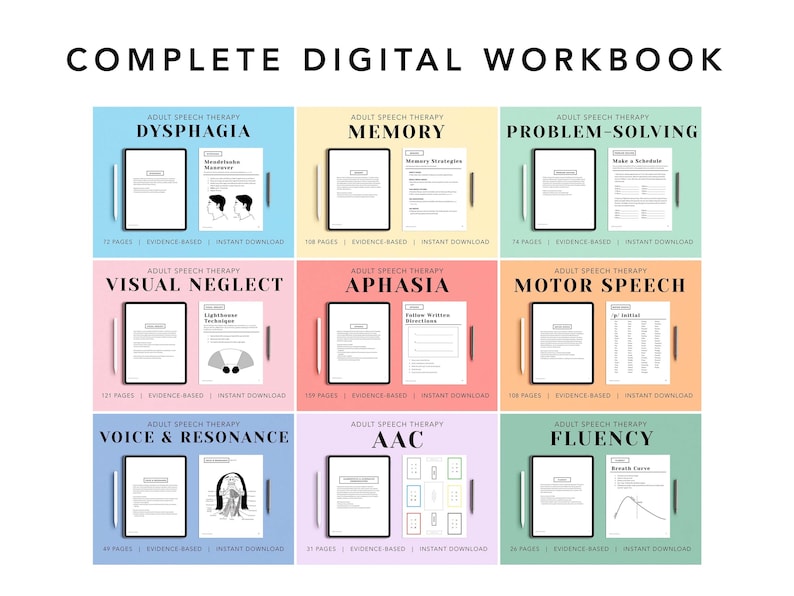 Dysphagia Sample Pages

Memory Sample Pages

Aphasia Sample Pages

Problem Solving Sample Pages

Voice and Resonance Sample Pages

Visual Neglect Sample Pages

Motor Speech Sample Pages

AAC Sample Pages

Fluency Sample Pages
2. Medical Reference Chart Sample Pages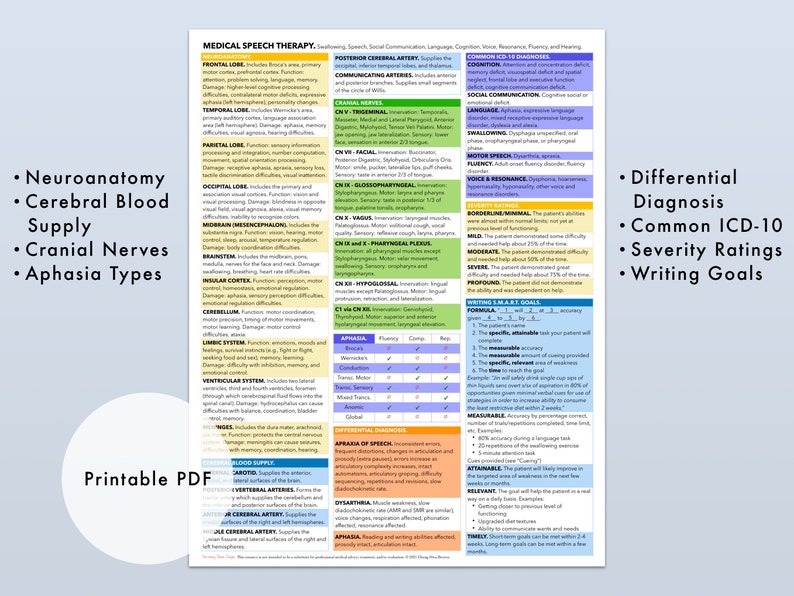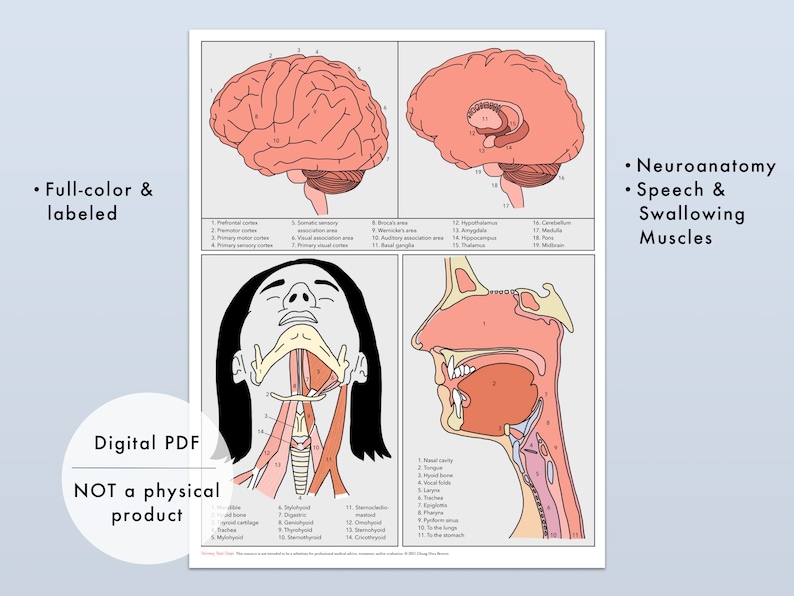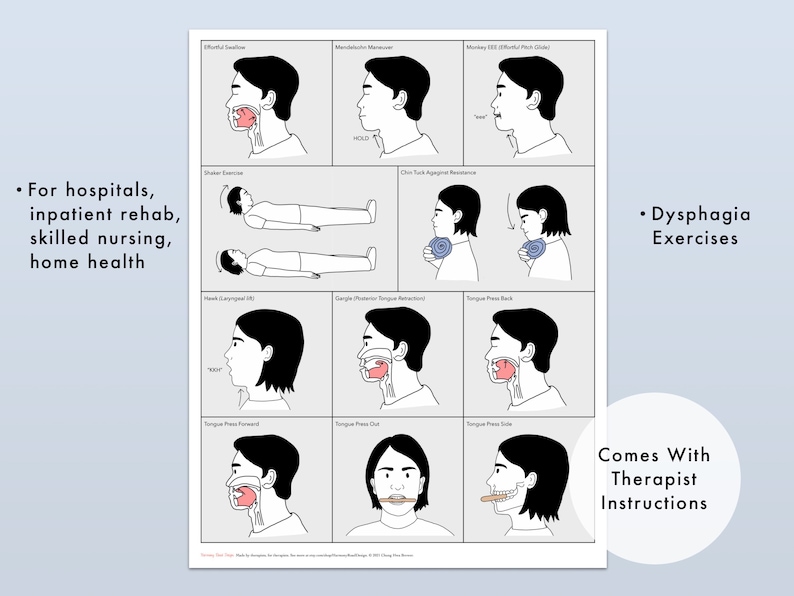 3. Evaluation Templates Sample Pages
4. Documentation Guide Sample Pages
5. Goal Bank Sample Pages
6. Cultural Competence Chart Sample Page

7. Aphasia Treatment Approaches Sample Pages
8. References Sample Page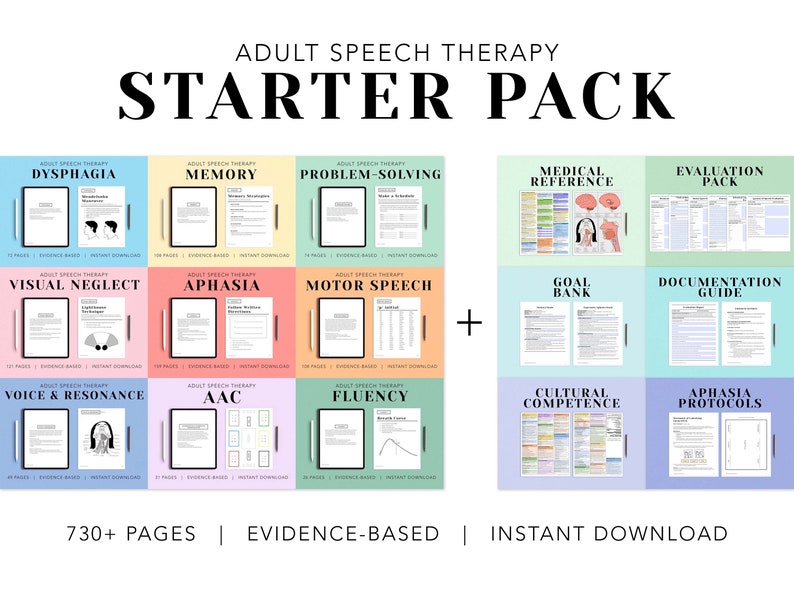 Questions? Email us at [email protected]