In this post, you'll find step-by-step instructions for how to make a memory book for dementia. AND a free printable memory book template!
While memory books can be an excellent tool for patients with memory impairments after TBI or stroke, this post will focus on dementia.
For hundreds of evidence-based handouts and worksheets, check out our bestselling Adult Speech Therapy Starter Pack!
More Popular Articles:
Why Make A Memory Book?
A memory book, also known as a 'reminiscence' or 'orientation' book, is a practical and often fun memory tool for patients with dementia.
By adding images and simple text about their current and past lives, the memory book can help them orient to where they are, to what's happening around them, and to unearth emotions that trigger memories.
Memory books can help patients:

1. Orient to self, location, and purpose

2. Orient to family and friends

3. Orient to medical history and status

4. Orient to daily schedule, activities of daily living, etc.

5. Decrease anxiety and increase independence

6. Reduce repetitive questions
Research shows that using a memory book can help patients:
Stay on topic
Reduce repetitive speech
Be more accurate when speaking
Increase conversation time
Reduce confabulations
Reduce anxiety-related behaviors
(Bourgeois, M., 2015; May, A.A. et al., 2019)
Memory Books Are Also Meaningful
In addition to the practical benefits listed above, memory books can bring much-needed meaning and joy to a patient's daily life.
I once had a patient who had a stroke at 99 years old. After she was discharged home, her daughter noticed that she'd stopped talking and that her memory was off.
Two months post-stroke, I was called in for an evaluation. After assessing the patient, I recommended a memory book.
Her daughter dug out old photo albums and we organized pictures into a personalized book, adding captions to spark even more memories. When presented with the book, her mother lit up and began regaling us with stories of her youth.

The daughter thanked me through tears of joy. All it took was a simple memory book to ignite her mother's memories and help them to reconnect.
How to Use a Memory Book
Teach caregivers and loved ones how to use the memory book. They can use it to communicate, to share in a meaningful activity, or to orient and calm the patient.
Memory Book Instructions for Caregivers:
1. Memory books are meant to be a fun sharing experience. They can improve mood and quality of life.

2. Slowly flip through the book. Encourage conversation by pointing to photos and asking open-ended questions. "Who is this?" "Where was this photo taken?"

3. Give reminders to read captions. This helps your loved one remember information.

4. Avoid quizzing your loved one. Instead, give opportunities to share parts of their life story.

5. Memory books can also be used to answer any repetitive questions your loved one may ask. For example, if they frequently ask, "When are we going home?" prompt them to open the memory book and find the answer under Location Information.
How to Format a Memory Book
1. Include photos whenever possible. Add short captions as needed.

2. Place photos and text on plain white printer paper (8.5″ x 11″).

3. Include headings and page numbers on each page.

4. Write or type using large text (24-point or larger).

5. Limit text to 3-4 short sentences on each page. Use bullet points.

6. Laminate or place paper in plastic protective sheets.

7. Keep the book in a 3-ring binder or photo album.
What To Put in a Memory Book
Remember to include plenty of pictures throughout the memory book.
1. Cover Page
Name and photo of the patient
2. Table of Contents
Title and page number of each page of the memory book.
3. Personal Memories
Full name, birth date, birthplace, birthplace
Fond childhood memories
Career
Hobbies and talents
Memorable happy events (e.g. vacations, buying a new car, winning an award, etc.)
2. Family Memories
Spouse's names, specific memories, hobbies, traits, etc.
Children's names, specific memories, hobbies, traits, etc.
Parent's names, specific memories, hobbies, traits, etc.
Pets' names
3. Friends Memories
Friends' names, specific memories, hobbies, traits, etc.
4. Other Memories
Add other memories that will spark a conversation, soothe the patient, orient them to their life now—or are just plain fun!
5. Location Information
Current home (e.g., "the yellow house", "retirement home," "Bobby's house")
Previous homes
6. Daily Schedule
Wake-up time, meal times, reading hours, etc.
7. Emergency Medical Information
Name, birthdate, age
Allergies
Primary Care Physician & phone number
Emergency Contacts & phone numbers
Medical Conditions
Surgical History
8. Medications
Date the list was updated
Medications & Dosages
Memory Book Example Pages
Memory Book for Dementia Template (PDF)
Your downloadable Memory Book Template is 11 pages and includes:

1. A Cover Page
2. Table of Contents
3. Pre-formatted Memory Book pages
4. Patient Schedule Page
5. Emergency Medical Information Page
6. Medication Page
Use pages 3 through 8 for personal memories, family memories, friends' memories, other memories, and location information.
Enjoy!
More Dementia Resources
Find more evidence-based templates, worksheets, and treatment guides in the bestselling Adult Speech Therapy Starter Pack!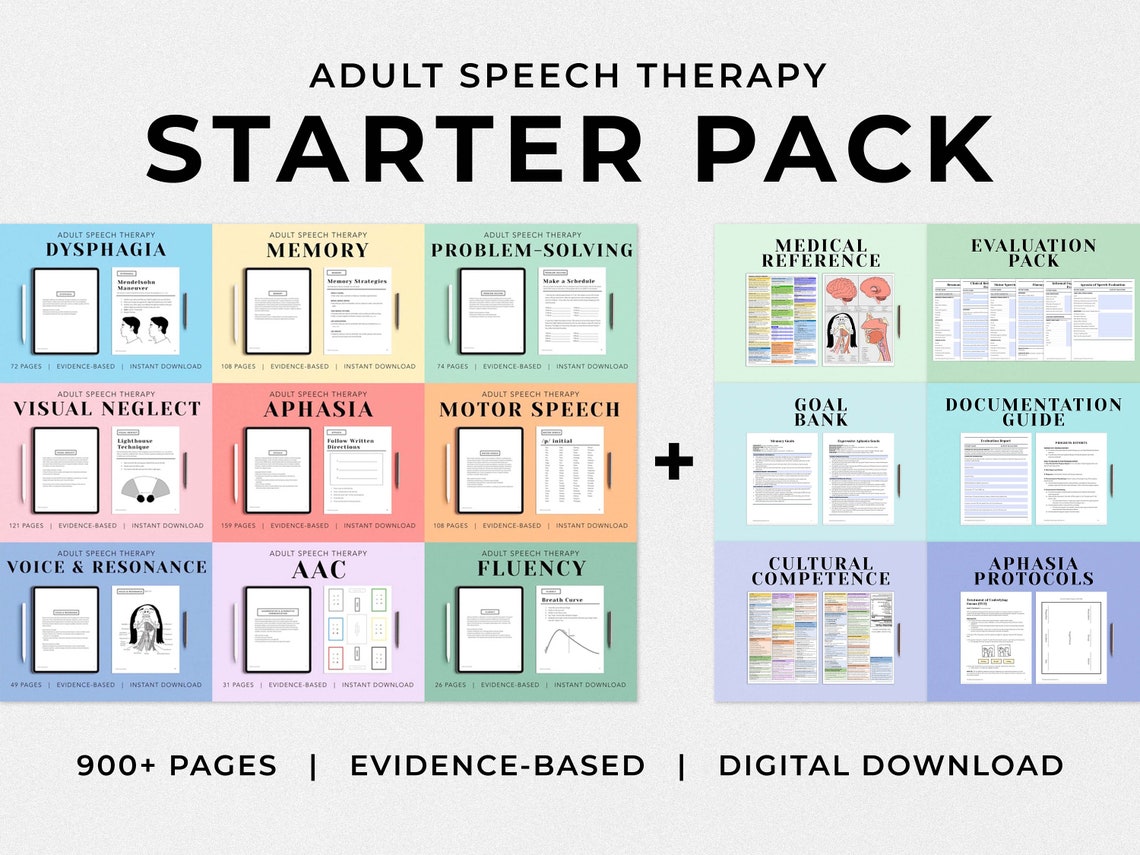 References
Bourgeois, M. (2015) Innovative treatments for persons with dementia. ASHA Clinical Research Education Library. https://academy.pubs.asha.org/2015/11/innovative-treatments-for-persons-with-dementia/. Online Video. Retrieved August 23, 2023.
May, A.A., et al. (2019) Review of AAC interventions in persons with dementia. International Journal of Language and Communication Disorders, 54 (6). pp. 857-874.